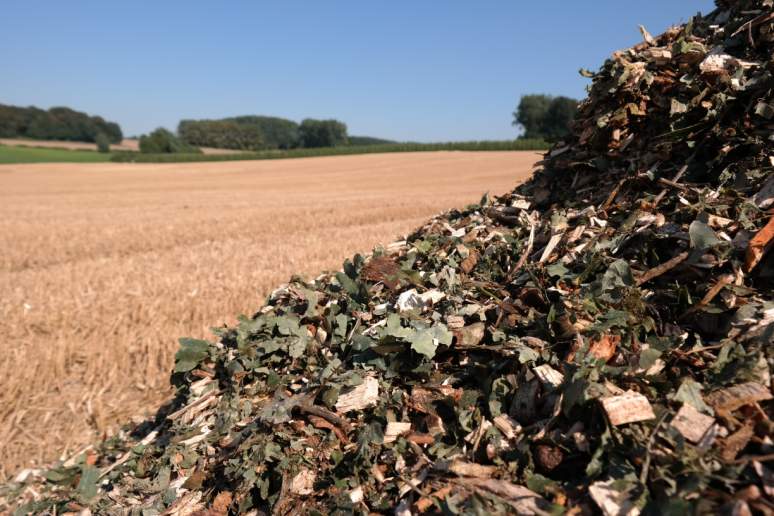 Wood chips are made of fresh wood without the leaves. Wood chips roughly consist of half water, the other half consists of about 50% carbon (C), 1% nitrogen (N) and 0.2% phosphate (P2O5). Wood chips therefore have a high C/N ratio (50 to even 150 depending on the type of wood) and a very high C/P ratio (200 to over 2000). In other words, they bring a lot of carbon and almost no nitrogen or phosphate. Because micro-organisms use the nitrogen from the soil to decompose the wood chips, they can even provide temporary nitrogen immobilisation, nitrogen that the crop also needs to grow. It is therefore advisable to apply wood chips in the autumn to capture the residual nitrogen, immobilise it and reduce leaching. Furthermore, it is also important to think about how you fit this into your crop rotation. Taking into account the availability of wood chips, the recommended dose is 40-45 m³ (± 10-15T) wood chips per ha every four to five years.
Machinery used
A standard manure spreader can be used to spread the wood chips. Basicly there are 3 types: with horizontal rollers, with vertical rollers and with trays or platters (or a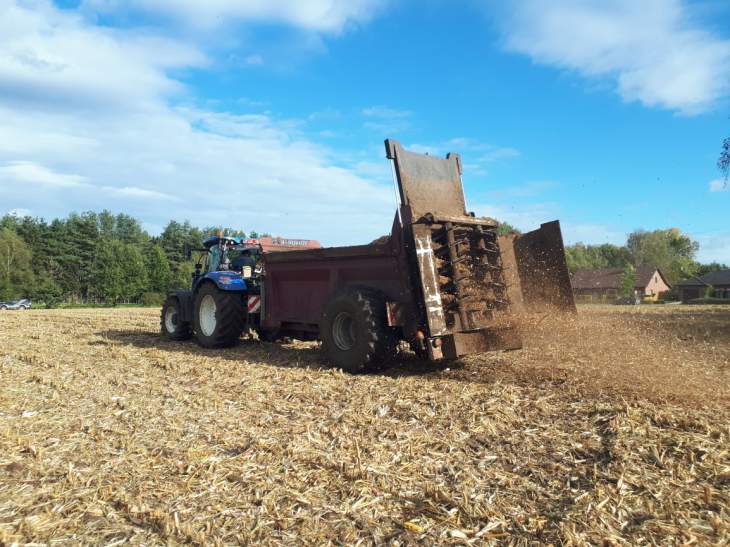 combination of rollers and trays). All types can be used. It is mainly important that there are no blockages in the transport system of the spreader or on the trays. In order to have a homogeneous spreading pattern, the spreader may not lose any wood chips due to shocks when turning on the headlands (when the transport system is switched off, the rollers will still rotate). And you also can have an overlapping spreading pattern. A well-adjusted machine and the experience and accuracy of the driver are therefore crucial here.
A scale on the spreader can also help to get a homogeneous spread. If you want to go a step further, you can use a spreader with task cards after a soil scan. In this way, plots with lower organic matter will get more wood chips than plots with higher organic matter.
The wood chips should also be worked under shallowly. This can be done with a standard cultivator or a rotary harrow. This can be done in 1 movement with the sowing of a cover crop.